Tricia Baldwin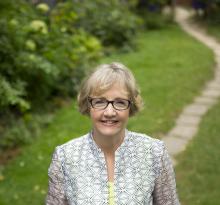 Director of the Isabel Bader Centre for the Performing Arts /ON
Tricia Baldwin became the Director of the Isabel Bader Centre for the Performing Arts in December 2014. She is charged with the operation of 'the Isabel' through creative and imaginative collaborations, the programming and marketing of a concert series, and rentals as well as through strong management and business accountability while serving the university and community.  Under her leadership, the Isabel has expanded its programming to include leaders in the classical music world as well as world music and multidisciplinary programming, the Bader and Overton International Violin Festival, the Human Rights Arts Festival and the Isabel Overton Bader Canadian Violin Competition.  Tricia is a proponent of developing the next generation of artists and arts leaders. In addition to collaborating with the Banff International String Quartet Competition and the Honens International Piano Competition, she has championed a new M.A. in Arts Leadership program with the School of Drama and Music. 
Prior to The Isabel, Tricia Baldwin was the Managing Director of Tafelmusik from 2000 to 2014.  During this period, Tafelmusik built its operating budget from $2.7MM to $5.4MM, eliminated its deficit, enjoyed fourteen successive surplus budgets, increased its endowment from $314k to $5.3 MM and built balance sheet funds to $800k while undertaking over 50 international tours and 20 recordings and films, and launching major education, outreach and artist training initiatives including the Tafelmusik Baroque Summer Institute.  Prior to Tafelmusik, she was the Executive Director of Ballet British Columbia and General Manager of the Kingston Symphony.  Tricia has served on juries and panels for a number of arts councils, currently serves on the Arts Advisory Committee for the City of Kingston, and the Advisory Board of York University's MBA Arts and Media program at the Schulich School of Business.
Tricia Baldwin received her Bachelor of Music in Performance from the University of Toronto and her MBA from the Schulich School of Business at York University.  A leader in Canada's non-profit sector, Tricia Baldwin was awarded the Canada Council for the Arts' John Hobday Award in Arts Management and a full scholarship to attend the Strategic Perspectives in Non Profit Management course at Harvard University. She is currently enrolled in philosophy courses at the University of Oxford, Department of Continuing Education.
Our Supporters