Katherine Stadel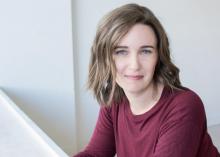 Manager, Events and Audience Services SFU/BC
Katherine currently is working as the Business Development Coordinator for the brand new Anvil Centre Theatre in New Westminster BC. Prior to the Anvil Centre Katherine worked as the Manager of Events and Audience Services for SFU (Woodwards) and Rentals Manager for the Arts Club Theatre Company. Her other experience includes group sales at Second City Toronto and a summer internship in Hollywood California for Wonderland Sound and Vision. She also has been in involved in Vancouver boards such as the GVPTA, The Jessies and Fighting Chance Productions.
Katherine has a Bachelor of Fine Arts from the University of Victoria, specially in directing.
Katherine's passion revolves around the accommodation of performing arts and the enticement of community through Cultural events.
Our Supporters