Anita Gaffney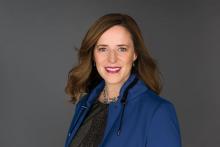 Executive Director, Stratford Festival/ON
As Executive Director, Anita Gaffney works alongside the Artistic Director in setting the strategic and operational direction for the Stratford Festival. With a budget of $58 million, the Festival earns 95% of its revenue through ticket sales as well as ancillary and fundraising activities, making it one of the most self-sufficient cultural organizations on the continent. Ms. Gaffney joined the Festival in 1991 as a Publicity Assistant, and over the past 21 years has held a variety of positions, including Director of Marketing during the theatre's years of peak attendance. She designed the Festival's customer relationship marketing system, which remains in use today and has been emulated by arts organizations around the world.
In addition to her marketing expertise, Ms. Gaffney is highly regarded for her skills in government relations, finance, change management and strategic planning, honed during her years as the Festival's Administrative Director. In 2014, she and Artistic Director Antoni Cimolino announced the ground-breaking Stratford Festival HD project. Over the next decade, the entire canon of Shakespeare's plays will be filmed, creating a unique cinematic library of Festival productions that will be broadcast worldwide and will serve as an invaluable educational tool for generations to come. Her efforts to expand the reach of the Festival into the digital world also include supporting the production of previous films, Caesar and Cleopatra, The Tempest and Twelfth Night, overseeing the renewal of the Festival's website, the launch of mobile applications and the expansion of the Festival's overall digital presence.
An active member of the Stratford community, Ms Gaffney serves as Chair of the City of Stratford's economic development agency. She is the Past Chair of the Stratford Public Library, and in 2011 she served as the Campaign Chair of the United Way Perth-Huron, raising $1.2 million.  In 2008 Ms Gaffney was selected to participate in the Governor General's Leadership Conference, and in 2006 she received a Business Excellence Award for Personal Achievement from the Stratford and District Chamber of Commerce.  She has an MBA from the Richard Ivey School of Business at Western University and has continued her executive education through Harvard Business School. She resides in Stratford with her husband, Kevin.
Our Supporters